Going on a tour of the Garden or Natural Area with our enthusiastic and knowledgeable staff is a great way to generate enthusiasm among your group. Garden tours are unique and take you beyond what is initially apparent by sharing stories and details about the different gardens and the collections that make them unique.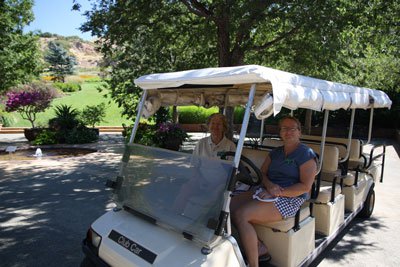 Complimentary Tram Tours
May 1 to September 30 excluding Mother's Day and Free Days.
Monday - Sunday 10 AM-1 PM*.
Tours last approximately 20 minutes.
Last tram tour leaves at 12:45 PM.
Groups of six or less, no registration necessary. First come, first served.
Groups of seven or more are required to schedule a private tram tour.
The number of people allowed to ride on a cart is restricted to the passenger seats available and cannot exceed the manufacturer's guidelines.
*Complimentary tours are based on volunteer availability.
---
Private Walking/Tram Tours - Advance reservation required
Groups of up to seven can request a private Garden tour led by one of our knowledgeable docents. Private tours are offered Monday through Sunday at 9AM, 11AM, 1PM, 3PM & 5PM.
May 1 to September 30 excluding Mother's Day and Free Days.
Tour reservations must be requested at least ten business days in advance and are subject to volunteer availability.
Garden walking tours last one and a half (1.5) hours and may include up to a mile of walking with slight elevation changes.
Garden tram tours last approximately one hour.
Natural Area tours are also available and offer a new perspective on the vast area behind the themed gardens and provide some of the best views of the Salt Lake valley.
Each private tour may accommodate up to seven guests per walking tour docent and six guests per tram tour docent.  We can accommodate larger groups, but they will be split between multiple docents.
Private tour prices (tour price, plus admission):
Garden member tour - $50 per docent
General public tour - $75 per docent