PLANT CONSERVATION RESEARCH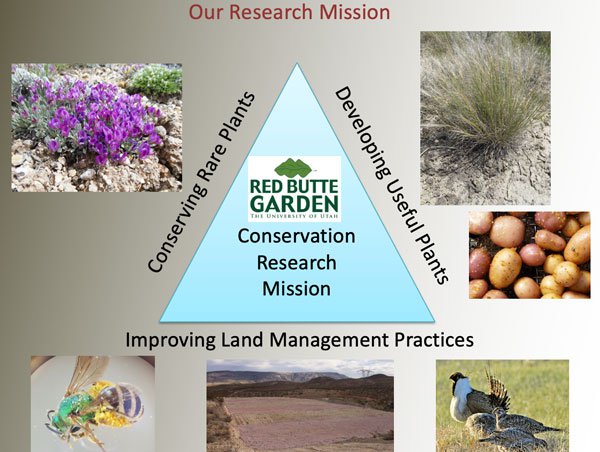 The Red Butte Garden Plant Conservation and Research Department focuses on three major areas of research: Conserving Rare Plants, Developing Useful Plants, and Improving Wild Land Development.
What kind of work do we do?
We are stewards of the at-risk plants in our region, and protecting them is a key component of Red Butte Garden's mission. We hope to mitigate threats and preserve genetic information so that rare populations may recover in their native habitats, thereby conserving the biodiversity of our native flora and fauna.
In-situ conservation is work that is in the area where the plant naturally grows. We collect plant samples and seeds to study later, monitor populations, transplant endangered species out of harm's way, and re-vegetate with seeds or seedlings in their native habitats.
Ex-situ conservation is work that is done at Red Butte Garden or at other facilities around the West. This work involves off-site storing seeds in seed banks to preserve the genetic material, testing seed germination and viability to better understand how to propagate a species, and studying living specimens that have been propagated or salvaged from project sites.
Biodiversity is the number of different species of plants and animals found within a particular region, or ecosystem. The more diverse an ecosystem, meaning the more plants, animals, insects, and bacteria living within it, the healthier it is. A biodiverse ecosystem has more resources to draw on that allow it to bounce back from disturbances, adapt to long-term changes, and support the communities within it, wild or cultivated.
While biodiversity is critical for the sake of the environment in and of itself, there are a number of reasons biodiversity should matter to people. Plant diversity provides us with key ingredients and products that feed us, shelter us, keep us healthy, and fuel our economy. To destroy a species, actively or unknowingly, is to destroy its potential for generations to come.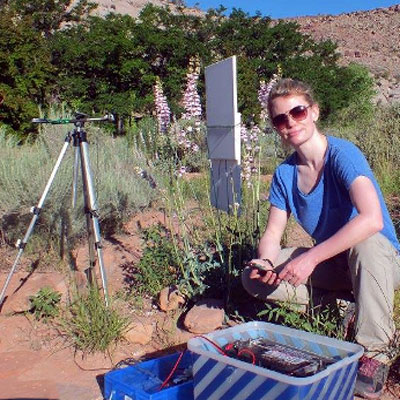 Using Rana technology to monitor pollinator activity
Using Rana technology to monitor pollinator activity
Duration: Ongoing
Summary: We are using an automated motion-sensitive detection system called Rana to track and record pollinator activity on selected native plant species. This project will allow us to determine the diversity and frequency of insect visits on certain types of flowers, and help answer important questions about pollinator services and "pollinator-friendly" plants in Utah. We have used Rana cameras for studies at the Rio Mesa Center outside of Moab, UT, in areas surrounding St. George, UT, as well as in the Natural Area and Children's Garden here at Red Butte Garden, and recorded visits of many different kinds of native bees, butterflies, and even hummingbirds.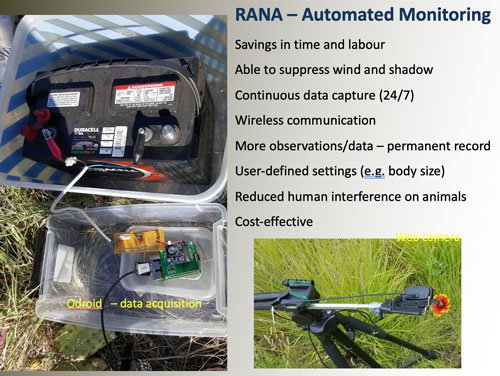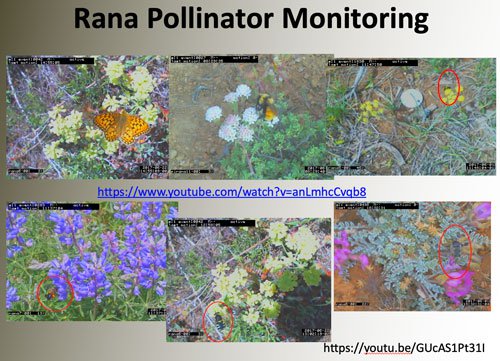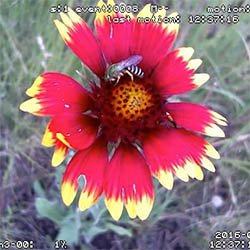 To watch a video of pollinators visiting flowers at Red Butte Garden, Click Here!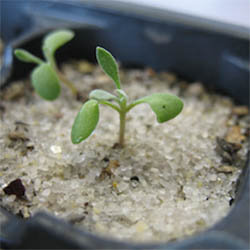 Germination and Propagation Trials
Germination and Propagation Trials
Partner: BLM and Center for Plant Conservation (CPC)
Duration: Ongoing
Summary: At the Garden, we are currently testing seeds from our seed bank in order to develop the best protocols for germinating rare plant species. Once seeds have germinated, we maintain them in our greenhouses and track their growth each month in order to pinpoint the best methods for propagation. Many of the species we work with require very specific conditions for growth, and by sustaining these species in our greenhouses, we can determine the feasibility of growing seedlings for future out-planting and restoration studies.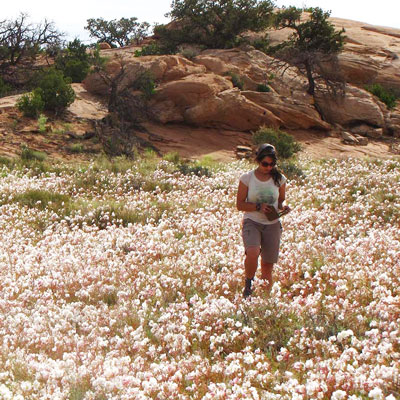 Seed Banking Projects
Rare & Endangered Seed Banking for Ex-situ Conservation
Partner: Bureau of Land Management (BLM) and Center for Plant Conservation (CPC)
Duration: Ongoing
Summary: Seed banking is a long-term method for conserving the diversity of plant species. Seeds of rare, threatened and endangered plants are collected and stored with low moisture content at low temperatures, thereby extending their lifespan. These collections preserve genetic material away from the threat of habitat destruction. We store a portion of seed in our on-site seed bank; another portion is sent to the National Center for Genetic Resources Preservation in Fort Collins, CO.
Seeds of Success Program
Partners: BLM and Colorado Plateau Native Plant Program (CPNPP)
Duration: Currently Inactive
Summary: Each year we survey an ecological region for abundant, native plants from which seed can be collected. In 2015, we completed nearly 30 collections totaling 1.2 million seeds from 14 native Great Basin plant species. Seeds are stored at the Bend Seed Extractory for future use in habitat restoration and rehabilitation. Herbarium specimens are also collected, which are divvied up between Red Butte Garden, the University of Utah, Brigham Young University, and the Smithsonian Institute.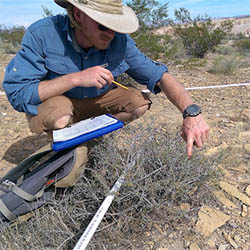 Blackrock Gypsum Vegetation Surveys and Rehabilitation Analysis
Blackrock Gypsum Vegetation Surveys and Rehabilitation Analysis
Partners: BLM, U.S. Fish and Wildlife Service, and Blackrock Gypsum
Duration: Completed in 2015
Summary: We surveyed habitat surrounding the Endangered Gierisch's globemallow (Sphaeralcea gierischii) population in Arizona to piece together the rehabilitation history of post-gypsum mining landforms. We compared vegetation structure and growth between rehab areas treated with gypsum-rich substrate and adjacent undisturbed control sites to examine the effects of past practices, seed mixes, and how adding gypsum substrate effected the success of native plant restoration in this area.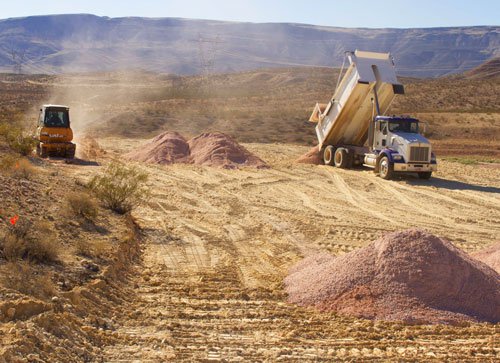 Adding the pink-colored gypsum-rich substrate to the test site.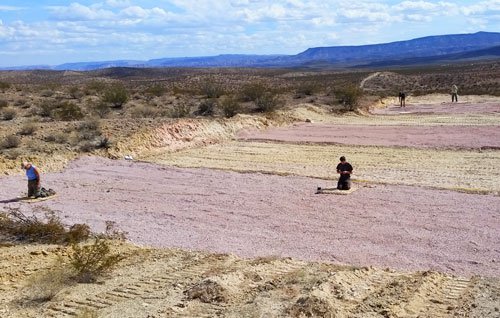 Re-seeding each section.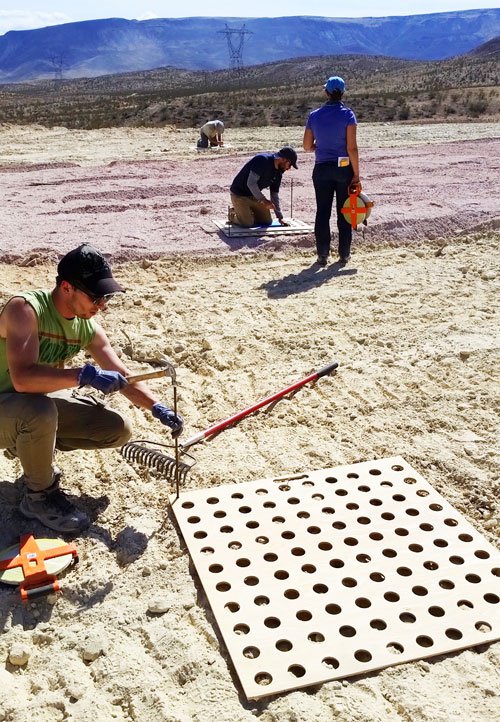 Re-seeding each section.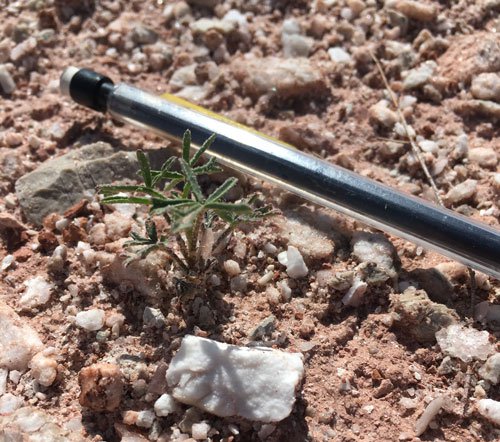 Monitoring seedling growth.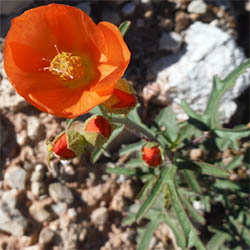 Endangered Plant Propagation & Reintroduction Projects
Endangered Plant Propagation & Reintroduction Projects
Project: Sphaeralcea gierischii (Gierisch's globemallow) propagation and reintroduction
Plant Status: Listed Endangered
Threats: Gypsum mining and off-road vehicle recreation
Partner: BLM, U.S. Fish and Wildlife Service
Duration: Completed in 2015
Summary: We conducted in-situ germination studies at a trial reintroduction site to assess the feasibility of reintroducing this species to rehabilitated gypsum mining substrates from seed. We monitored seedling establishment and tracked seedling survivorship from 2013-2015 on study sites in Arizona. We also collected seed for long-term ex-situ conservation and developed greenhouse propagation protocols. This species was listed as endangered in 2013—a decision that was informed by our data.
photo: Gierisch's globemallow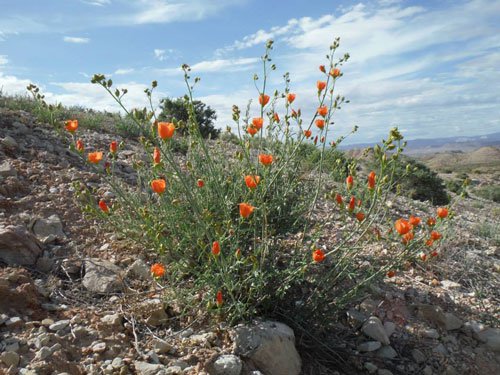 Project: Penstemon grahamii (Graham's beardtongue) and Penstemon scariosus var. albifluvis (White River beardtongue) long-term demographic and population monitoring.
Threats: Oil and gas exploration, tar sand and oil shale mining, off-road vehicle use, and grazing. All threats are exacerbated by small population sizes and limited distribution.
Partner: BLM
Duration: Initiated in 2004, completed in 2015
Summary: Over the ten consecutive years of this monitoring project, we have collected demographic and population trend data from these species to inform management decisions. The project has grown to include propagation studies, ex-situ care of living specimens, and seed collection for ex-situ conservation.
photo: Graham's beardtongue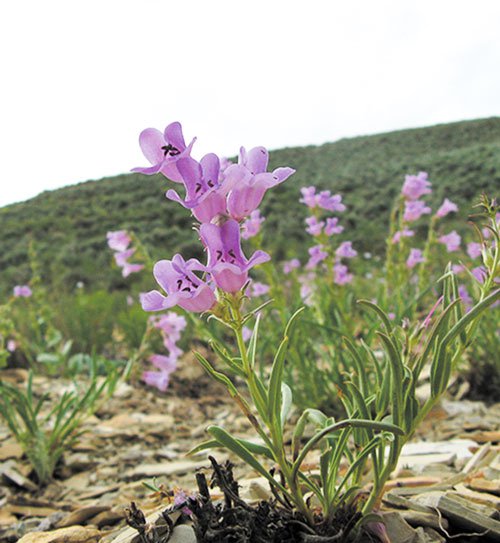 WHAT CAN YOU DO?
Plant Native Plants, Pull Invasive Species
Your land, however small, can be an important piece of habitat for native plants, pollinators, and other wildlife. As our cities expand outward, eating up true native habitats, these oasis become critical to support native populations.
What to Plant:
What to Pull: